Alpharetta, GA December 10, 2003
---
Cheryl Williams received the USDF All Breeds 2003 Horse of the Year Award for Training Level with her Haflinger pony, Michael's Magic.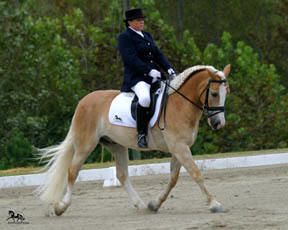 Cheryl Williams and Mikey
---
Mary Sandefur and Mr. Bond, grazing in the sun.
---
Experience Excellence.
Enjoy Dressage.
Visit Applewood.
770-663-4075
Quotations….
"Good is not good, where better is expected."- Thomas Fuller

"I don't like that man. I must get to know him better."- Abraham Lincoln
"Always be a first-rate version of yourself, instead of a second-rate version of someone else."
- Judy Garland
"How far that little candle throws his beams! So shines a good deed in a weary world."
- William Shakespeare

"Great minds have purposes, little minds have wishes."- Washington Irving

"Time you enjoy wasting, was not wasted."
- John Lennon
"A gentle answer turns away wrath, but a harsh word stirs up anger."- Proverbs 15:1
"Reputation is what you are perceived to be. Character is what you are."- John Wooden
"The cure for boredom is curiosity. There is no cure for curiosity."- Ellen Parr
---
Subscriber services
To be added or removed from the mailing list, click the appropriate link below.
Add me to the list. Remove me from the list.
Applewood Events...
---
GDCTA Kudzu Klinic with Amanda Persons-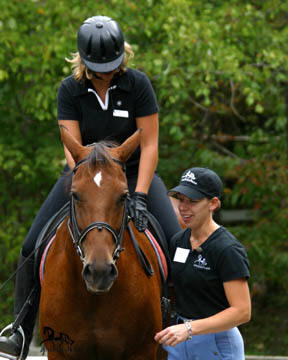 On Saturday September 27, 2003, Applewood Farm hosted a talented group of horses and riders for a GDCTA Kudzu Klinic with Amanda Persons.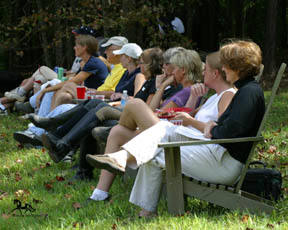 We had 14 horses and riders and a small group of auditors.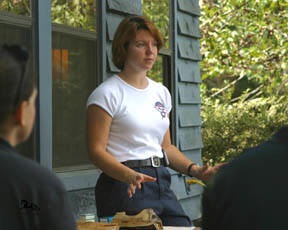 Dr. Cherie Booker DVM of Equine Medical Associates provided the lunch-time lecture on Sport Horse Performance and Maintenance. She discussed various preventative medicine and training programs as well as common sport horse ailments and injuries and their respective treatments.
The participants and auditors enjoyed a catered luncheon provided by Bleu Horse Ventures, Ltd., www.bleuhorse.com. Be sure to contact them for your custom equestrian logo wear and all your promotional needs.
We especially thank all the GDCTA volunteers who organized the clinic.
---
"A good battle plan that you act on today can be better than a perfect one tomorrow."
- General George Patton
"We are what we repeatedly do. Excellence then is not an act but a habit."
- Aristotle
---
GOD BLESS AMERICA
www.applewood-farm.com