Alpharetta, GA Sunday November 4, 2001
---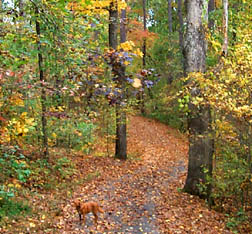 Colored leaves cover the driveway
---
Winter Dressage Program
Contact Applewood about our winter dressage boarding, training, and instruction program with Amanda Persons. Lesson horses available.
---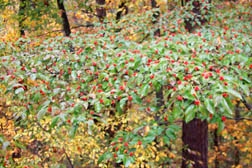 Red berries on the dogwood trees
---
Quotations...
"The voyage of discovery is not in seeking new landscapes but in having new eyes."
- Marcel Proust
"It isn't the absence of conscience or values that prevents us from being all we should be; it is simply the lack of moral courage."
- Michael Josephson
"A heart at peace gives life to the body, but envy rots the bones." - Proverbs 14:30
"A vacant mind is open to all suggestions as a hollow building echoes all sounds."
- Chinese Proverb
"Be ready when opportunity comes ...Luck is the time when preparation and opportunity meet." - Roy D. Chapin Jr.
"The best thing about the future is that it comes one day at a time." - Abraham Lincoln
"Love does not consist in gazing at each other but in looking outward together in the same direction."
- Antoine-Marie-Roger de Saint-Exupery
"Wisdom is knowing what to do next; virtue is doing it." - David Star Jordan
"To change is difficult. Not to change is fatal."
"A closed mouth gathers no foot."
- Bob Cooke
---
It is almost time for Michelle Gibson to pack up and head for Florida for the winter show season. Meanwhile, the beautiful fall days here have been great for

riding

.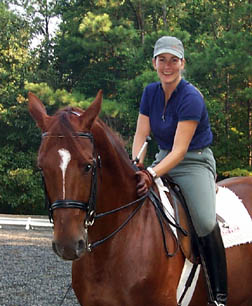 Team building: Michelle Gibson and Indy
---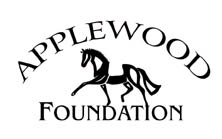 F
or one special day this year, October 27, people shopping at the Rich's department stores were able to contribute $5 to Applewood Foundation at the door and receive a special discount ticket entitling them to up to 20% off their purchases in the store. This was the annual "Shop for a Cause" day at Rich's and we were excited to be able to participate in the program this year.
Shop for Applewood Foundation at Rich's
---
We set up our display photos and Applewood Foundation director's chairs in the mall at the store entrance. Thanks to the hard working foundation volunteers,
and the valuable Rich's discount tickets,
we won the prize for selling the most tickets of any of the charities involved in the program.
We hope to participate in the Rich's Shop for a Cause charity program again next year. Thank you Rich's!
---
"It is not the critic who counts; not the man who points out how the strong man stumbled, or where the doer of deeds could have done better. The credit belongs to the man who is actually in the arena; whose face is marred by dust and sweat; who strives valiantly; who errs and comes up short again and again; who knows the great enthusiasms, the great
devotions, and spends himself in a worthy cause; who at the best knows in the end the triumph of high achievement."
- Theodore Roosevelt
---
Your contributions can make a

winning

USA

Olympic campaign possible. Visit www.applewoodfoundation.org and find out how you can be a part of the

d

ream

to

day

.
GOD BLESS AMERICA