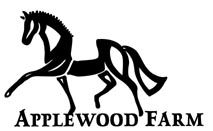 Alpharetta GA USA October 26, 2003
---
Fall colors at Applewood
---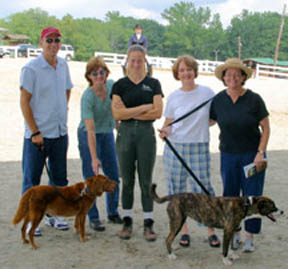 Support team, complete with dogs Carl & Doris.
---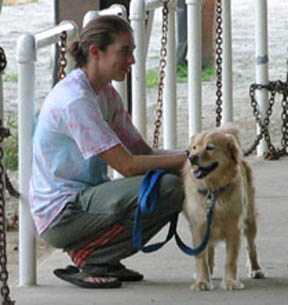 Applewood Senior Staff: Kim Morley returned to visit from Yasgur's Farm, Woodstock, NY.
---
Quotations…
"We should not judge until we see clearly; and when we see clearly, we will not judge."
- G.D. Gregg
"Not the fastest horse can catch a word spoken in anger."
- Chinese Proverb
"None is so rich as to throw away a friend." - Turkish proverb
"Happiness: A way station between too little and too much."
- Channing Pollock
"God is the brave man's hope, and not the coward's excuse."- Plutarch
---
Subscriber services
To be added or removed from the mailing list, click the appropriate link below.
Add me to the list. Remove me from the list.
Applewood Events…
---
Jackie Gray recently joined the Applewood staff as a working student.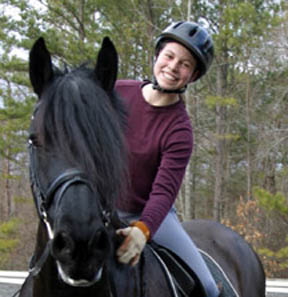 Originally from Massachusetts, when not riding her Friesian gelding, Ike, Jackie also skates with the Atlanta Thrashers on their ice crew. You can sometimes see her on TV, cutting circles around the Zamboni. We also enjoy seeing her cutting 20m circles on Ike.
---
Tina West placed twice in the ribbons at her first show, the GDCTA Training show at Wills Park, riding Lord, a 14.1-3/4 hand, imported, bay, gelding.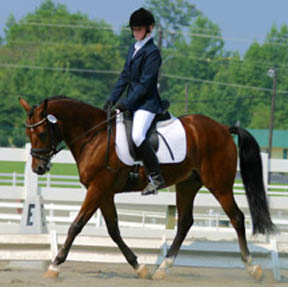 Lord is a registered Westphalian Riding Pony and is for sale. Click here for details or call Amanda Persons at 770-346-0005.
---
Experience Achievement.
Enjoy Dressage.
Survive Winter.
Applewood Farm has Precision EQ footing, covered arena, mirrors, 3x feed, turn out, boots, blankets, radiant heat, excellent care, and good times. Come visit, get the tour, and see for your self.
Training, Sales, Lessons
Click here to learn more or call 770-663-4075.
---
"We cannot live only for ourselves. A thousand fibers connect us with our fellow men."
- Herman Melville
"It is not the horse that draws the cart, but the oats." - Russian Proverb
"If we are to achieve a richer culture, rich in contrasting values, we must recognize the whole gamut of human potentialities. We must weave a social fabric in which each diverse human gift will find a fitting place." - Margaret Mead
"Learn to do the common things uncommonly well." - George Washington Carver
"Talent is formed in still waters; character in the world's torrent."- Johann Wolfgang von Goethe
"I never give them hell; I just tell them the truth and they think it is hell."- Harry S. Truman
"Discovery consists in seeing what everyone else has seen and thinking
what no one else has thought."
- Albert Szent-Gyorgi
---
God Bless America
Brad Thatcher
brad@applewood-farm.com