Alpharetta, GA September 25, 2001
---
World of Dreams made his USA debut at Applewood Farm this weekend. Hosted by Applewood Foundation, we had a beautiful day and a great event. The foundation would like to thank the many volunteers who helped work the event and also express our appreciation for the generous donations we received.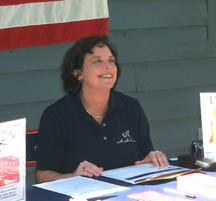 Cheryl Williams greeted guests at the Applewood Foundation table
---
We introduced the event with the National Anthem and then an invocation given by John Seger. Opening the show, Laura Thatcher provided a brief history and explanation of dressage for our audience of about 150 people, many who were new to dressage performances.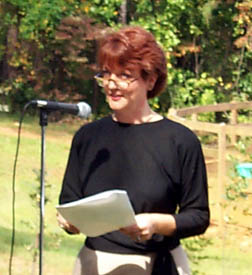 Laura Thatcher "tells it all" about dressage...
---
We were so pleased to have Dr. Carole Ludwig provide the narration of the rides. She provided wonderful commentary for the demonstration rides, helping the audience see how the movements progress from one level to the next.
Dr. Carole Ludwig narrated the rides...
---
Music for the rides was adapted from the Cirque du Soleil sound tracks. The first ride was Michelle Gibson on Evolutionist . At 18 hands, the Oldenb
u
rg mare gave a big performance.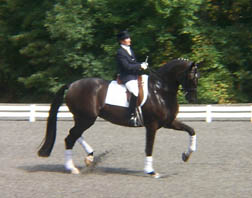 Michelle Gibson and Persons' Evolutionist
---
Quotations...
"Americanism is a question of principles, of idealism, of character: it is not a matter of birthplace or creed or line of descent."
- Theodore Roosevelt
"Cowards die many times before their deaths; the valiant never taste of death but once."
- William Shakespeare
"When walking through the "valley of shadows", remember, a shadow is cast by a Light." - H.K. Barclay
"Have I not commanded you? Be strong and courageous. Do not be terrified; do not be discouraged, for the Lord your God will be with you wherever you go." - Joshua 1:9
The next ride was given by Kristi Livingston on the three-year-old Trakener mare, Sabirís Innika, owned by Laurie Skrip. Kristi is Gibson's full time groom.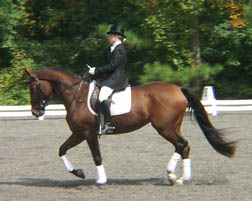 Kristi Livingston and Sabir's Innika
---
Susan Laidlaw on Dulcinea was next. A former English teacher, Susan recently moved to Georgia and is enjoying being a student herself for a change. She has studied under Michelle Gibson all summer.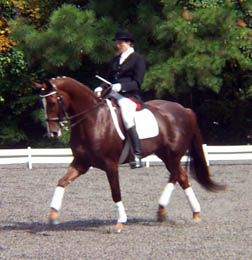 Susan Laidlaw and her Dulcinea
---
Amanda
Persons gave the next ride on Rio Ranchito's
Sir Joe, a seven-year-old Hanoverian gelding.
A talented rider in training with Michelle, Amanda is also Michelle's invaluable assistant who makes things work.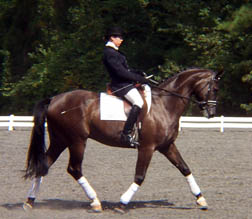 Amanda Persons and Rio Ranchito's Sir Joe
---
And finally Michelle on World of Dreams. Already working closely in concert, Michelle and "Indy" put on quite a show to the thrill of the spectators. After the show and BBQ lunch, our guests got to visit Indy in his stall, pat him, and feed him carrots.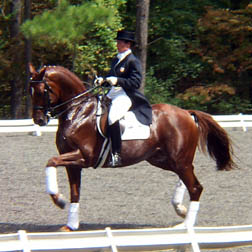 Michelle Gibson and her World of Dreams
---
We were truly thrilled to have the entire PhelpsPhotos crew - Mary, JJ, and Astrid - at Applewood for the weekend. It was fun to have them here and we hope they will come again soon. They took some great photos. Click here and here to see their articles and photos of World of Dreams. Brad Thatcher
---
.
"Even if I knew that tomorrow the world would go to pieces, I would still plant my apple tree."
- Dr. Martin Luther King, Jr.
"The probability that we may fail in the struggle ought not to deter us from the support of a cause we believe to be just." - Abraham Lincoln
"He who loses money loses much.
He who loses a friend loses more.
But he who loses faith loses all."
- Henry H. Haskins
"You gain strength, courage and confidence by every experience in which you really stop to look fear in the face. You are able to say to yourself, 'I lived through this horror. I can take the next thing that comes along.' ...You must do the things you think you cannot do."
---
Your contributions can make a winning USA Olympic campaign possible.
Visit
www.applewoodfoundation.org
and find out how you can be a part of the

d

ream today
.
God Bless America