Alpharetta GA September 9, 2001
---
We have an artful "Midnight Banner" in our stables somewhere. This one handiwork recently popped up overnight and it really expresses the sentiment around here.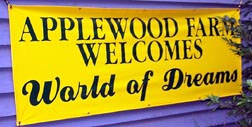 Latest work of the "Midnight Banner"
---
We continue to be excited about Michelle Gibson's new stallion, World of Dreams. His nick name is Indy. He has a pretty white blaze on his face, and two white socks on his hind legs. Indy seems to float around the arena when Michelle rides him. With modern photography, we have confirmed that he does, indeed, float.
Indy seems to float around the arena
---
We received our new directors' chairs with our farm and foundation logos this week. They are made by one of Michelle's sponsors,
Triple Crown Custom
, and we think they are terrific. We will use some in the tack area and riding ring here at the farm, and some will go in the trailer to go to shows and other events.
Foundation and Applewood logo directors' chairs from Triple Crown Custom.
---
Quotations...
"Too low they build who build below the skies." - Edward Young
"Friendship consists in forgetting what one gives and remembering what one receives."
- Alexander Dumas
"A glad heart makes a cheerful countenance...a cheerful heart has a continual feast."
- Proverbs 15:13-15
"All mankind is divided into three classes: those that are immovable, those that are movable, and those that move."
- Benjamin Franklin
"It is far better to be alone, than to be in bad company." - George Washington
---
To be added or removed from the newsletter mailing list, send a message to Brad@applewood-farm.com
Farm Project Corner
---
Always projects at the farm. This week we renovated the footing in the covered arena. It gets a workout with 20 horses in training. Just getting time to work on it is tricky with the busy riding schedule. We put in a new base of crushed screenings and angular sand.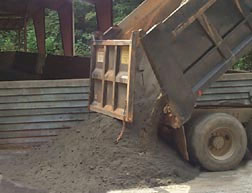 Then we added Precision EQ rubber footing. Precision EQ, one of Michelle's sponsors, shipped it to us overnight. We used our Gator to move the bagged footing into the arena.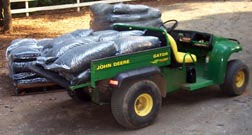 Then we distributed the bags evenly across the arena surface.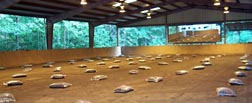 Then we emptied each bag in place, leaving piles of Precision EQ. This method helps to get the material evenly spread across the large area of the arena.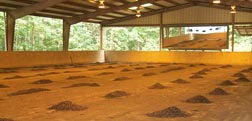 Then we used the tractor with the grooming attachment to evenly spread it out.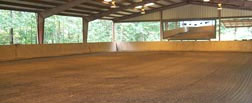 The finished project. Made from specially recycled tires, those without any steel belts, this material came from the Precision EQ facility in Jacksonville, Florida.
---
"You cannot teach a man anything; you can only help him find it within himself."

- Galileo

"Experience is one thing you can't get for nothing."
- Oscar Wilde
"There is only one thing more painful than learning from experience and that is not learning from experience."
- Archibald McLeish
"I am enough of an artist to draw freely upon my imagination. Imagination is more important than knowledge. Knowledge is limited. Imagination encircles the world."
- Albert Einstein
"Faith is one of the forces by which men live, and the total absence of it means collapse."
- William James
"A leader is a dealer in hope."
- Napoleon Bonaparte
---
Your contributions can make a successful Olympic campaign possible.
Visit www.applewoodfoundation.org and find out how you can be a part of the dream today

.