Immediately after the STRIDES show at Chastain Horse Park, Michelle went to Germany to work out the final arrangements to ship her new stallion, "World of Dreams" to the USA.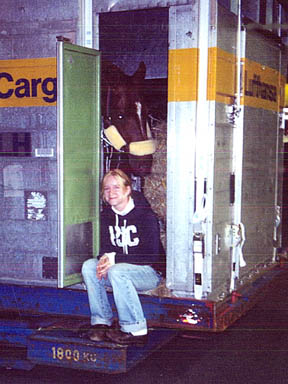 Michelle's groom Kristi Livingston rode with him in the cargo plane to make sure he had a safe trip. He arrived in New York and now is in a special quarantine facility in Virginia where he will stay for about 4 weeks.
---
At the Greater Atlanta Dressage Southern Show the following weekend, a delegation apparently from Athens, Greece paid a surprise visit to the show grounds.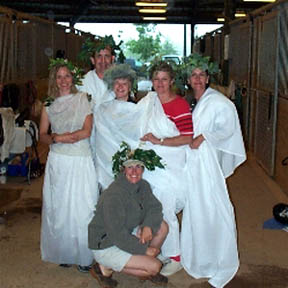 Closer inspection revealed them to be Applewood Foundation volunteers dressed in toga.
---
Applewood Foundation has selected Michelle Gibson as a beneficiary of its support and is proud to announce that it has sponsored the transport of "World of Dreams" to the USA. Click here to see

how

you can help too. .....Brad Thatcher
---
Quotations...
"The only way to have a friend is to be one."
- Ralph Waldo Emerson
"Joy is not in things; it is in us."
- Benjamin Franklin
"I hope I shall follow firmness of virtue enough to maintain that I consider the most enviable of all titles - the character of an honest man."
- George Washington
"The supreme quality for leadership is unquestionably integrity. Without it, no real success is possible, no matter whether it is on a section gang, a football field, in an army, or in an office." - Dwight David Eisenhower
"Rotten wood cannot be carved."
- Chinese Proverb
"Men who never get carried away should be."
- Malcolm Forbes
"The integrity of the upright will guide them, but the falseness of the treacherous will destroy them." - Proverbs 11:3
"Truth never damages a cause that is just."
- Mohandas Gandhi
"To dare is to lose one's footing momentarily. Not to dare is to lose oneself." - Soren Kierkegaard