Alpharetta, GA USA, April 15, 2001
---
Girl Scout Troop 865 made a field trip to Applewood in March. They learned grooming and basic horsemanship skills. They also practiced nose patting and carrot feeding techniques. After a picnic lunch they all got souvenir horse shoes. We hope they come back to see us again.
---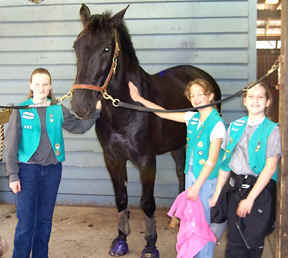 Grooming Guinness...
---
Official Girl Scout lucky horse shoes...
---
We had a great group of winter boarders this year while the training horses were in Wellington, Florida for the winter show season. April 1 they packed up and moved out to make room for the horses returning from Florida. After 3 years of drought, we finally have had normal rains this Spring. The trees and pastures are finally getting the water they have needed.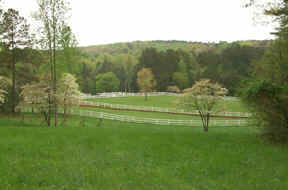 Greener pastures...
---
Quotations...
"To dare is to lose one's footing momentarily. Not to dare is to lose oneself." - Soren Kierkegaard
"Faith is the assurance of things hoped for, the evidence of things not seen." - Hebrews 11:1
"Try not to become a man of success but rather to become a man of value."
- Albert Einstein
"Fame is a vapor, popularity an accident, riches take wing, and only character endures."
- Horace Greeley
Michelle Gibson and her crew rolled back into Applewood April 3. We are so excited to have her, her assistants, and the training horses back. It was like shifting from idle to full throttle as they unpacked and immediately started the busy training schedule. We had been working for weeks to be ready for them.
---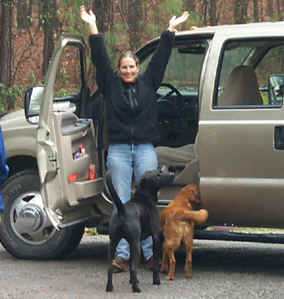 Happy to be back!
---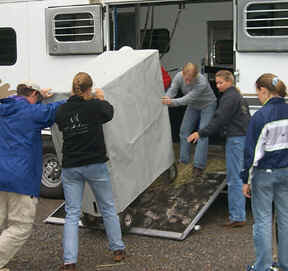 First off, the heavy tack trunks...
---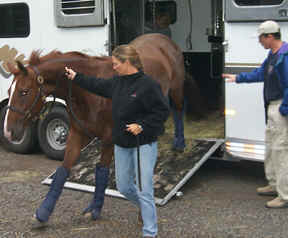 Horses happy to be home, too.
---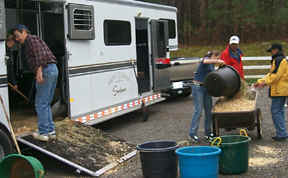 Takin' care of business...
---
"Do your duty and a little more and the future will take care of itself." - Andrew Carnegie
"When you want to test the depths of a stream, don't use both feet." - Chinese Proverb
"I am a slow walker, but I never walk backwards."
- Abraham Lincoln