Alpharetta, GA February 7, 2002
---
News from the farm
Our new farm manager and trainer, Amanda Persons of Columbia South Carolina, is doing a great job. She will be competing on her horse, Evolutionist, currently in training with Michelle in Florida. Amanda joins the Applewood and M. Gibson staff as a trainer, instructor, barn manager, and she also handles the administrative side of M. Gibson Enterprises. She is now accepting horses and riders for training.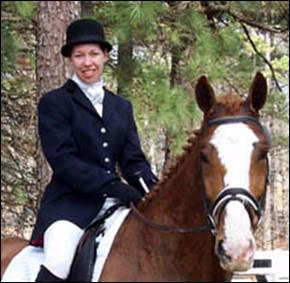 Amanda & Wodehouse
---
In case you were wondering about our previous manager, Meredith Mack, she is now a newly wed, residing in Wayne, New Jersey with her husband Warrick Gilson, and her horse Tuzla. We wish them all the best!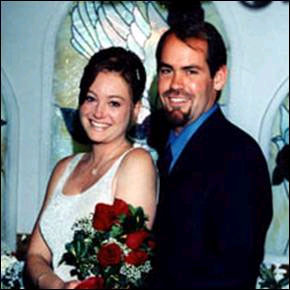 Meredith & Warrick married in Las Vegas
---
Applewood boarding space is now available
Please come see us!
(and bring your horse with you.) 770-663-4075
Applewood Profile
Sara Larsson came to Applewood from Karlstad, Sweden. Her 8yr Danish warm blood, Diameter, shipped in mid December. Sara has a degree in mechanical engineering, is 33 yrs old, and studied dressage under Bo Tibblin in Gothenbourg before moving with her husband Cai to Atlanta. A talented groom, she also works for Amanda with the training horses. We are glad she is here!
Sara Larsson & Diameter
---
Quotations….
"Thought is the blossom; language the bud; action the fruit behind it." - Ralph Waldo Emerson
"To dare is to lose one's footing momentarily. To not dare is to lose oneself." - Soren Kierkegaard
"Dogs are not our whole life, but they make our lives whole." - Roger Caras
"Using a spoon or a steam shovel is often less important a decision than digging in the right spot!" - Glenn Crider
---
Subscriber services
To be added or removed from the mailing list, click the appropriate link below.
Add me to the list. Remove me from the list.
News from Wellington, Florida
---
Michelle Gibson and World of Dreams are producing stellar performances in Wellington Florida this winter season. Representing the very first competitions for their new career together, Michelle and Indy came out of the chute with a second and three first places.
Michelle & Indy enjoying the show
---
Michelle & Indy's Test Results
Wellington Dressage
Intermediaire-1 71.125% 1st Place 2/2/02
Prix St Georges 71.750% 1st Place 2/1/02
Gold Coast Opener
Intermediaire-1 74.500% 1st Place 1/19/02
Prix St Georges 69.250% 2nd Place 1/18/02
---
Outstanding in the arena
---
On-Line news
Be sure to see the January 26, 2002 edition of Sidelines Magazine. There's a great photo of Michelle and Indy (by Mary Phelps) on the cover and a nice Dressage Profile article (by Mary Hilton) "Michelle Gibson Returns To FEI With World Of Dreams." Another nice Mary Phelps photo on DressageDaily. You may click these links to see the magazines on-line.
---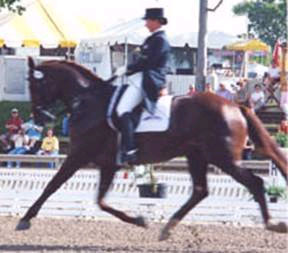 Michelle and Indy airborne again
---
Road Trip
The next show will be The Zada Florida Dressage Classic, February 14-17 at the Palm Beach Polo Equestrian Club. Michelle will be riding Thursday, Friday, and Saturday. Come cheer her on! A lot of Applewood friends and family will be going down to the show. See you there!
---
"Whether you think you can or you think you can't, you're right." - Henry Ford
"Absence is to love what wind is to fire; it extinguishes the small, it enkindles the great."
- Comte DeBussy-Rabutin
"Nearly all men can stand adversity, but if you want to test a man's character, give him power."
- Abraham Lincoln
"In war there is no substitute for victory."
- General Douglas MacArthur
---
Be part of the winning team and help send Michelle to the 2004 Olympics. Find out how you can help Applewood Foundation today.
GOD BLESS AMERICA